Craig Bellamy and John Hartson eye Wales manager role
Former Wales strikers Craig Bellamy and John Hartson say they would relish the chance to succeed Chris Coleman as manager of the national side.
After resigning from the post to become Sunderland boss, Coleman called for another Welshman to replace him.
Bellamy told Sky Sports: "I'll probably be interested for the rest of my life."
Hartson told BBC Sport Wales he "would walk on broken glass" for the job, but said he does not expect to be offered it and Tony Pulis "fits the bill".
Bellamy and Hartson described themselves as "passionately Welsh", with the former saying the job would be the "pinnacle" while allowing him to begin his managerial career.
Premier League role 'not realistic' – Bellamy
Coleman's late predecessor Gary Speed built his managerial reputation in the Wales job, as did Stoke City boss Mark Hughes.
Bellamy said: "It's a good position so I'm sure there are going to be plenty of people interested in it – and rightly so – due to what the Welsh FA have put in place and the group of players you'd have to work with.
"Would it be realistic for me to go into a Premier League team? It wouldn't be there due to where the Premier League's gone to.
"I'm passionately Welsh. It's the pinnacle for me and I would definitely always be interested in that job."
Bellamy says the players Coleman has left behind "are the most successful in the history of Welsh football" having reached the Euro 2016 semi-finals.
He added: "I've worked with Wales' younger age groups so I've got a good idea of the system that's been put in place for producing young players."
Gareth Bale and Craig Bellamy celebrate as Wales beat Norway 4-1 in November, 2011
Bellamy also pointed to having played with many of the current squad, including Gareth Bale.
"I've played with them all and been through the hardest of times with this group of players so we know each other very well," said Bellamy
"I respect a lot of them and it's just a healthy position at this moment.
"From outside looking in, a good group of men and people that just see qualifying for the next tournament and the tournament after that as well."
Pulis 'a no brainer' if he wants Wales job
Hartson says "it's a no-brainer" if Pulis, sacked by West Bromwich Albion on Monday, wants the Wales job.
He also believes it would make for "a fantastic team" if Bellamy was Pulis' assistant.
Swansea-born former Celtic star Hartson scored 14 goals in 51 games for Wales and totalled more than 500 appearances in an eight-club career spanning 15 years.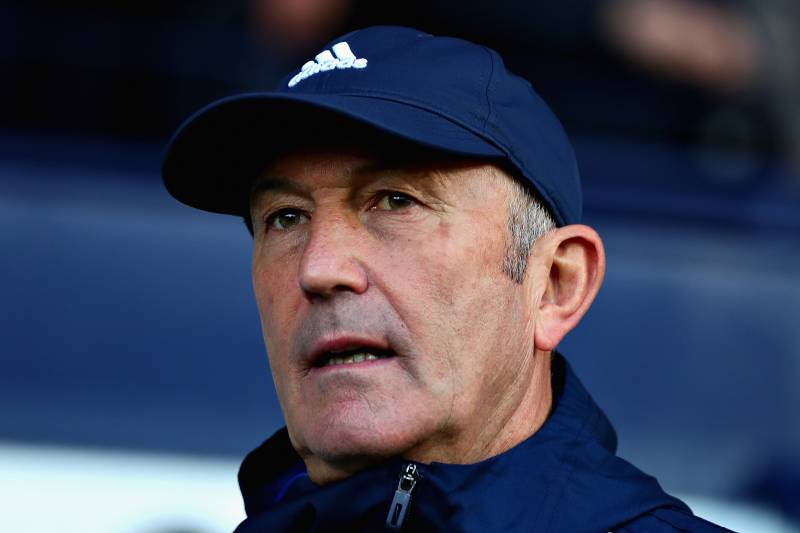 He retired from international football in February 2006 and hung up his boots for good in 2007 with more than 200 goals to his name.
The year he retired, Hartson was a rival to Coleman's late predecessor Gary Speed for the Wales job.
"I was interviewed for the job when Gary Speed, God rest his soul, got it 10 years ago and I've been working on every single game (in the media) – I've not missed a Welsh game in the last three years," said Hartson.
"So I know exactly what goes on within the group.
"I know the system, I know the philosophy and what the boys like working to because I've been in there."
However Hartson, working part-time as a striker coach with Scottish Championship club Livingston, is resigned to not being among the Football Association of Wales' candidates to take over from Coleman.
"I would walk on broken glass for the job," said Hartson.
"But at this moment in time I don't think I'm coming into their thinking."
He added: "I think it's probably a job, at this moment in time, for somebody that they feel with that little bit more experience and the ideal man, in my opinion, would be Tony Pulis."
Hartson expects more Premier League manager sackings before the end of the season and believes Pulis may be tempted to remain in the market for one of those roles.
"There'll be several Premier League jobs and whether Tony feels he is capable of continuing at the highest level in the Premier League – whether he feels he has another couple of jobs in him – before he takes over the national job, I don't know," he said.
"If Tony Pulis were to become available, then I believe it's a no-brainer.
"It's basically down to Tony whether he wants to do the Wales thing right now."
Hartson says former Wales team-mate Bellamy has furthered his cause by working as Cardiff City's player development manager under the guidance of experienced manager Neil Warnock.
However, Hartson would not himself be interested in being an assistant to Pulis.
"I've done an assistant role and it wasn't a role that I enjoyed so it would have to be a manager's role or nothing for me," said Hartson, alluding to being part of Coleman's backroom staff for 14 months.
Hartson was among a group that included Kit Symons and Osian Roberts and says he felt unable to "put his opinions forward".
He added: "I didn't feel at that time that I was given the chance to put my own stamp and didn't feel as if I could make an impact because of the situation and what it was.
"And I respect Chris – I have all the time in the world for him – but I felt unable to put my opinions forward and express myself within the group.
"So I did it for about 14 months and then came away from it."