It is a Sunday morning in late July and Carter and Fields are at church in Los Angeles. Fields is seated on the aisle in the back row. He has a mobile phone now and glances at it during slow moments in the service.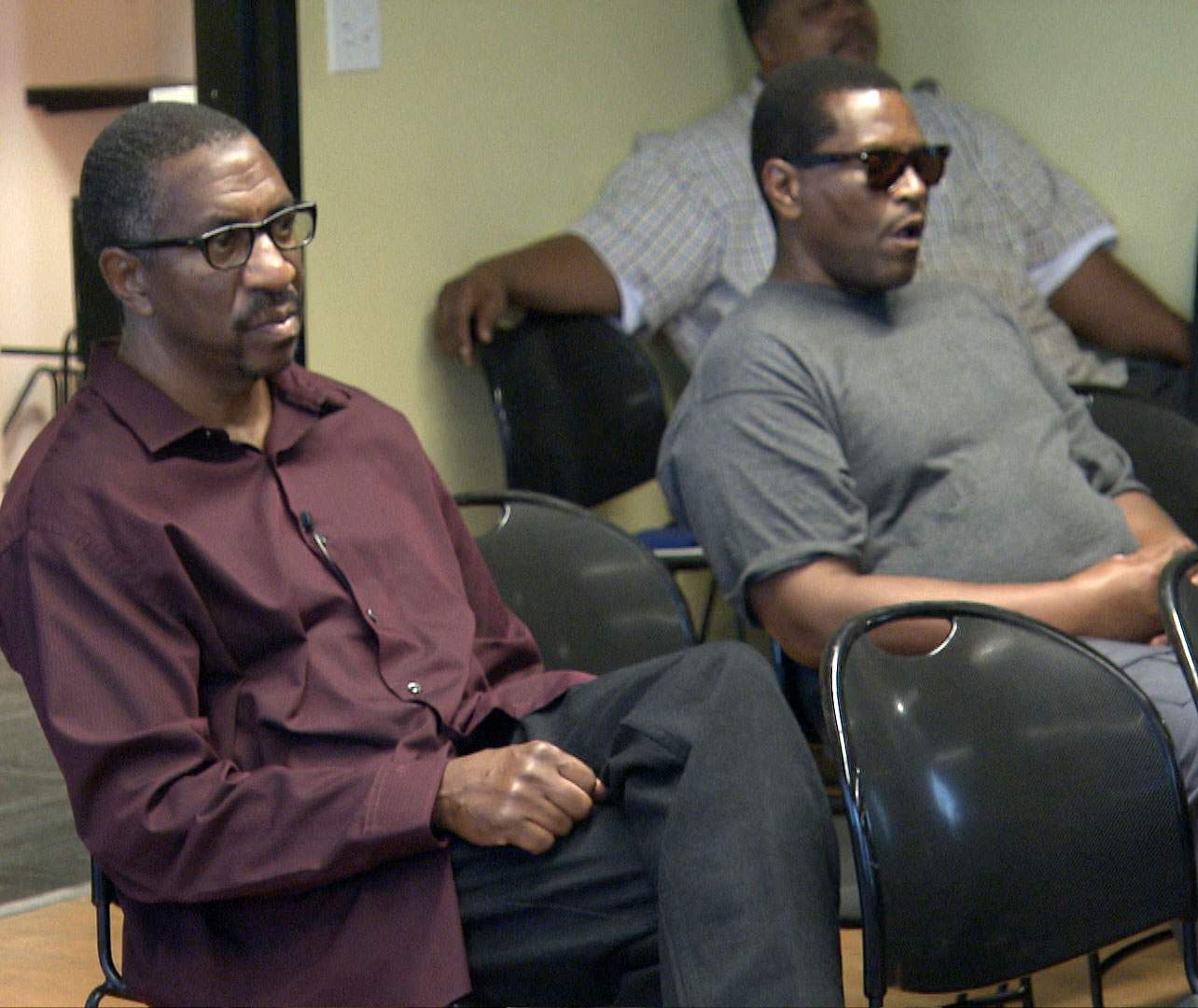 On his home screen is a photo of him and a number of children, some of them his great grandchildren. While he was in prison he didn't see any family after his mother died in 1994, but now that he is out they are back in his life. He is even dating Mae again, the mother of his oldest son. When he leaves The Martin Home in another few months he plans to move near Mae and two of his sons. The third son lives in another state. He was a baby when Fields was locked up and calls Fields by his first name "Ronnie" instead of "Dad". Fields is upset that this son didn't acknowledge him on his birthday or Father's Day. So he has cut him off. There it is again, the impatience, the anger.
Taylor notices it after the service when she is driving Fields in her boxy Toyota Scion with its Obama sticker on the windshield and rainbow flag on the dashboard. Fields talks about cars and how much he needs one right away so he can stop spending so much of his time on the bus. Taylor counsels patience, sounding a lot like an older sister. Fields asks after her dad. Then he answers his mobile phone. he says to the person on the other line:
It is a place Taylor has never been. After her brother was killed she used to pass the freeway exit that Bo had taken and think, "That's where it happened." Coming here with Fields feels like coming full circle.
It is the first time Fields has been back. A lot has changed in the more than three decades he has been away from this city of about 100,000 in Los Angeles County. There is a new freeway, different shops.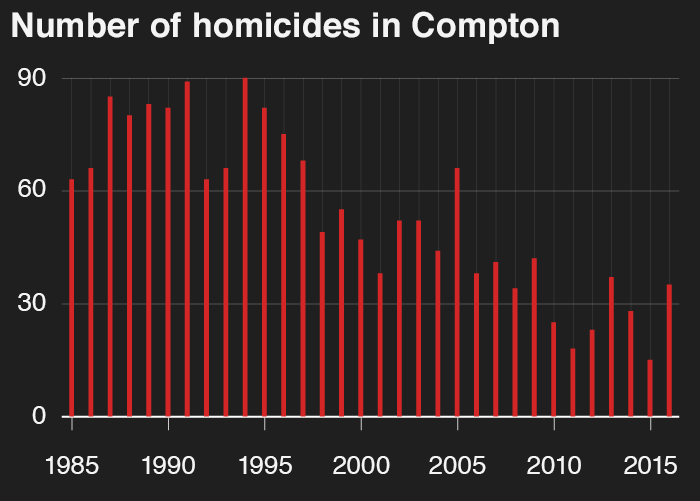 The violent Compton of the 1980s – when the number of murders doubled between 1984 and 1989, reaching 84 homicides in 1989, according to the Los Angeles Times – seems long gone. In 2011 the LA County Sherriff's Department recorded only 17 homicides in Compton. But they climbed again in 2013 and again in 2016, when they reached 33, according to Los Angeles Times statistics.
Not long after pointing out the liquor store where he met Bo, Fields notes a street blocked off by several police cars: "Ain't nothing changed out here."
In Compton, says Fields, a lot of people don't forgive. Some of his friends think he is a fool for getting in a car with Taylor and going to the site where it all happened, a spot that happens to be in rival gang territory – that is how Fields thought of this area back then and it is still how he thinks of it today. Even though the apartment block the shooting happened outside of has been replaced by a local government building and he no longer belongs to a gang. He checks his phone. His girlfriend, Mae, sent him a text:
They park and walk to the street corner where it happened. Taylor brings photos of Bo. Over the years the memories have faded, but being here brings them back, makes her brother feel real for her, as if he is alive again. She tears up and turns away from Fields, who remains stiff and guarded. He watches the cars driving by, always on the lookout. He doesn't feel safe here. He remembers how often people he knew used to get shot. It was normal in his world. To some extent, it still is. He mentions family members from the younger generation who are in trouble with the law, who carry weapons. His two brothers are on drugs: meth and crack.
Taylor always knew their lives were different, but before standing on that street corner she hadn't realised quite how different they were.They leave the site and get lunch, waffles with fried chicken. Taylor pays. As she drives Fields home it is clear to both of them Fields can't be the replacement brother he once promised to be, mowing her lawn and helping around her house. As her car approaches The Martin Home, Taylor's phone announces: "Arrived at Ronnie Fields's home." They both laugh. Taylor isn't sure if they will stay in touch. She notices every time Fields recounts the story of the murder he adds a few embellishments, taking a little less responsibility. She says:
Then she turns away from the two-storey home with barred windows on Crenshaw Boulevard and drives out of south-west Los Angeles.