Over the years Denise had forgotten Fields's name. But in a strange twist, she had ended up working with men just like him. As a young doctor, she had to work places senior staff didn't want to go. One of those places was the county jail. Denise didn't mind. Her new patients were often some of the same people she had treated at the county hospital. In 1997 she took a job at the California Men's Colony in San Luis Obispo County, a medium-security men's prison located halfway between San Francisco and Los Angeles.
Unlike the men at the jail, those she now treated were there for the long haul. She began to get to know them. Once she knew them a bit, she asked what they were in for. Many of them said murder. They would tell her their stories. She realised they had been in prison for about the same length of time Fields had. Fields, she thought, might, in fact, be like these guys, probably was like them, and she liked these guys. They were "nice people who made mistakes". She didn't believe they were evil, at least not the select group of men she worked with at the prison hospice she helped found.
She wanted to know if really, Fields was like them. She had forgiven him, but she wanted to hear him say he was sorry. She didn't want to make him feel bad, but she wanted her pain acknowledged. She wanted him to understand what he had taken from her and her family. She asked the men she worked with at the hospice, lifers, what they thought of her plan to contact Fields. The lifers told her they would give anything to be able to say sorry to their victims' families. They told her how hard it was to attend parole hearings, see the families suffering and know they were the cause of that suffering. In 2005 Denise wrote to Fields and asked if she could visit him.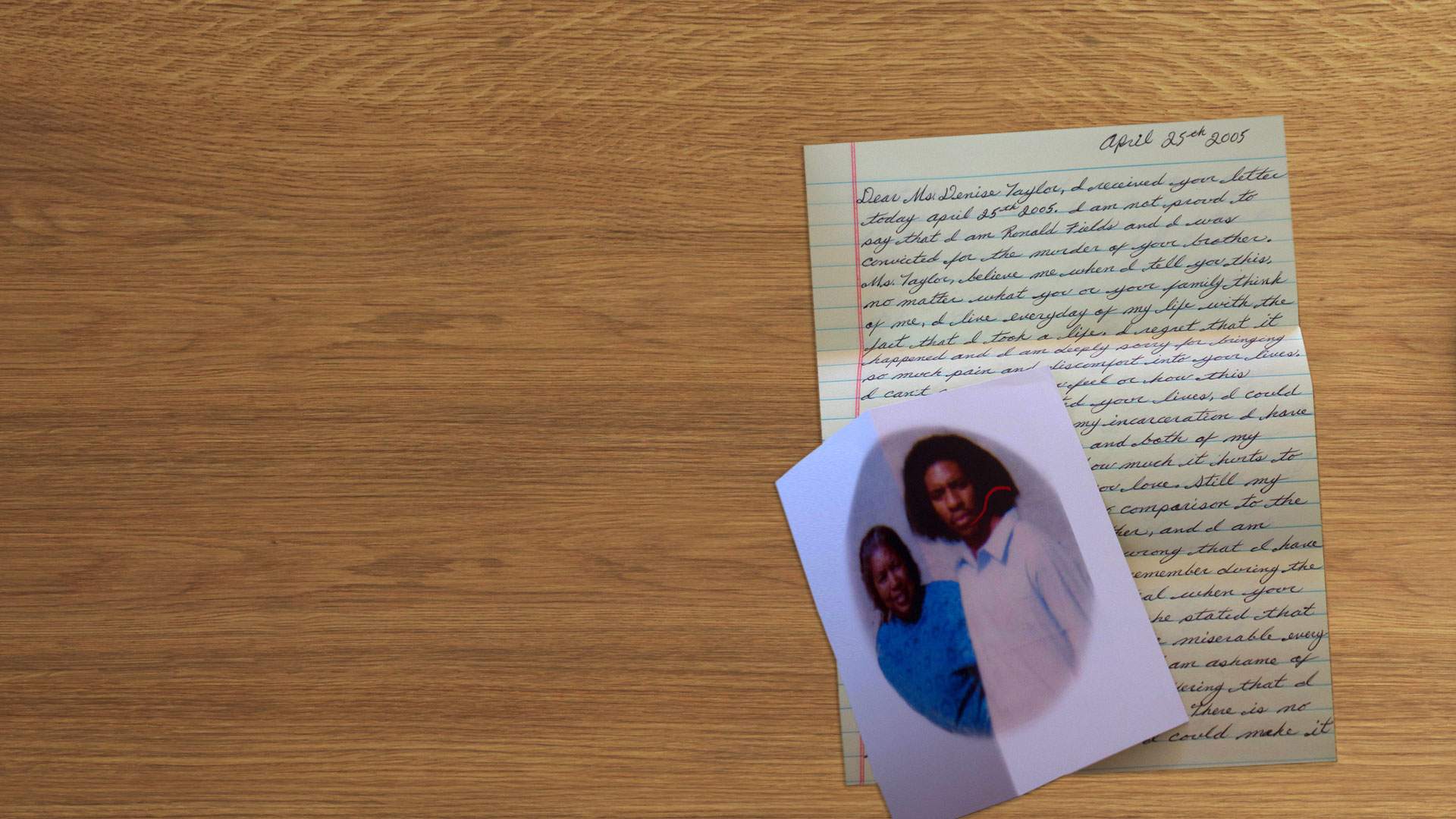 Meeting Ronnie
It has been 21 years since Fields murdered her brother. She is told Fields will enter through a door at the opposite end from which she entered. She keeps an eye on the door. She doesn't even know what Fields looks like. She watches every black inmate who enters, her eyes following them until they inevitably head to a table that is not hers. Then a tall man with a slight Afro haircut walks toward her. Taylor stands up.
"Hi, I'm Denise," she says, extending her hand.
His grip is firm, but not crushing. "I'm Ronnie."
They sit down. He is the first to speak:
She has to lean in close to hear him. The room is a concrete box off which all the various conversations around them bounce. Every once in a while a guard calls out: "OK, that hug's long enough," or "Hands above the table." Fields doesn't meet her eyes. He was 24 when he killed Bo. He came from a good family, but he followed his older brothers into a gang. He had gang tattoos, but was never convicted of a gang-related crime.
He dropped out of school in 11th grade when his girlfriend got pregnant. He worked at a car wash, at a used car dealership.
His record was relatively clean, aside from a juvenile charge of taking another kid's bag. Then he shot Bo. He describes the shooting the same way Taylor has heard it told many times before. He says:
Taylor takes out the pictures she brought to show him: photos of her husband and sons. She tells Fields about how her children will never know their uncle, how her husband will never know his brother-in-law. Fields, in turn, tells her about his family: his dead parents, his two brothers behind bars. She is the first visitor he has had in a decade. After two hours Taylor thanks him for letting her visit and gives him a short hug. He doesn't resist. He walks her to the gate. She tells him she will come again. And she does.The next time she visits she brings her father. It is the first of almost half a dozen parole hearings they attend.
Some family members feel they have to rally against the murderer, demand his or her death in order to honour their lost loved one, says Denise. Society encourages this. Denise does not. Still, she does wonder whether she is betraying her brother. People ask her what Bo would think. She tells them she honestly doesn't know.
When she told her parents about her first visit to Fields, her mother was OK with it, but expressed no desire to meet him. Her father was another story. Denise feared he would be angry, but he surprised her by being curious. He wanted to know what had happened, why this terrible event had occurred. Jim wrote to Fields about his Christian faith and his religious belief in redemption. Still, the first time he saw Fields, the emotion that flooded him was anger. But it wasn't anger at Fields. It was anger at the parole board. For Fields, Jim felt compassion. He also felt nostalgia for what he had lost. Now that he knew Fields, he was convinced that Fields had not intended to kill his son. It was just a terrible tragedy. Jim says: